Er zijn vijf slaapkamers in huis: De groene kamer op de gelijkvloers biedt slaapgelegenheid voor twee personen. Op de eerste verdieping vind je de roze en blauwe kamer, twee knusse kamertjes voor twee personen. Ook de camel kamer is op de eerste verdieping gelegen. Ideaal als je veel ruimte wil met z'n tweetjes. Deze kamer heeft bovendien uitzicht op de fruitgaard. Ten slotte blijft de beige kamer nog over. Dit is de gezinskamer die slaapcomfort geeft voor vier personen. Elke slaapkamer is uitgerust met de nieuwste bedden en een wastafel met spiegel.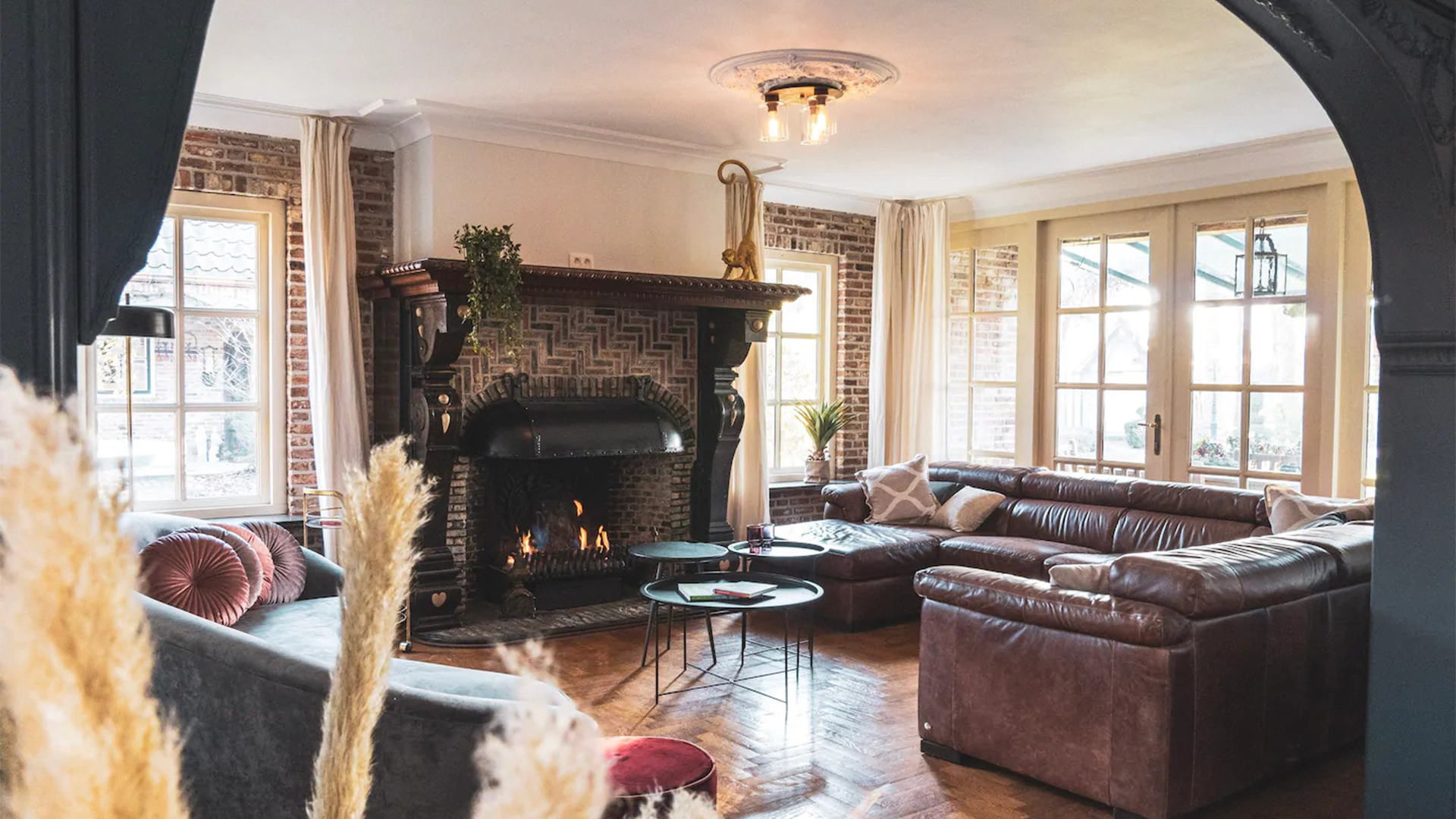 De woonkamer is uitgerust om met 12 personen comfortabel rond de openhaard te verzamelen. Je kijkt er naar de tuin, de tv of speelt er gezellig een spel samen!
Door een houten boog kom je in de eetkamer. Deze ruimte hebben we licht gehouden, zodat je ook in deze open mooie ruimte kan tafelen met z'n allen. 
Van de keuken maakten we het centrum van het huis. Hier wordt gekookt, maar kan je ook in kleinere groepjes aperitieven aan de toog.
Huis Barla heeft één volledig uitgeruste badkamer met regendouche, toilet en wastafel en een tweede, ruime douche ruimte verder op de gang. Beide douche ruimtes bevinden zich op de eerste verdieping. Op de gelijkvloers is er één toilet.
Je arriveert bij Huis Barla door de grote kasteelpoort. Aan de linkse kant vind je direct de boomgaard met appel-, peren-, pruimen en notenbomen. Onder de perenbomen ligt een petanque baan.
Aan de rechtse kant kom je het kampvuur en de jacuzzi onder de palmbomen en yucca's tegen. Af en toe vind je er ook onze ganzen, Louis en Frida, aan het einde van de metalen tunnel.
Rond het grasveld zijn twee vijvers gelegen. De eerste met waterlelies en schilpadden, de tweede met fontein. Hoewel deze vijver maar 50 cm diep is, kan je er op warme dagen perfect in pootjebaden. Of zelfs met je luchtkussen op dobberen.
Vlak naast het huis zijn de kruidentuin en het grote terras gelegen. Als je geluk hebt, staat er net een tulpenboom in bloei! Deze bloemen bloeien namelijk maar één dag.
Laten we Quick en Flipke niet vergeten. Deze kakariki's (geel-rode vogeltes) verwelkomen jullie vanuit de volière.
Fietsen kan je veilig stallen en opladen in de afgesloten garage.